Sara is Parents Canada Magazine's Behaviour Expert. Watch for her monthly Help Me Sara advice column.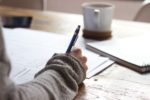 If your teen is studying for, or in the middle of writing exams right now, then you may be interested in reading about how to make this period of time less stressful for everyone, but especially for your son or daughter.
First, I'd like to normalize the stress and anxiety that is bound to occ...
Read Exam stress