Sara is Parents Canada Magazine's Behaviour Expert. Watch for her monthly Help Me Sara advice column.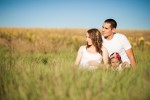 Other than my husband's birthday and Valentine's Day, when I think of special days during the month of February, I think of Family Day. This year in Canada it falls on February 15th. I think of this day as a reminder of how important family time is. Of course, as with Valentine's D...
Read Family Day – what does it mean to you?