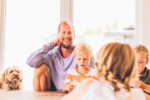 It's a brand-new year. An opportunity to wipe the slate clean and to consider how to create a more positive home environment in which your family can connect and continue to grow.
Here then are five tips:
Collaboration is key.
January is a great time to introduce monthly family meetings. Thes...
Read Fostering positivity in the family