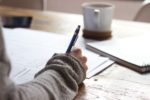 Download How to best prepare, study and perform well on tests and exams.
Sara Dimerman in conversation with Janyce Lastman. Over the course of this episode you will learn more about:
The 
difference between a quiz, test and exam
 and how to prepare differently for each How 
standardized tests
 (su...
Listen to How to best prepare, study and perform well on tests and exams