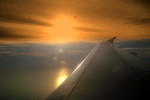 When our 15 year old daughter mentioned that the French department at her high school was giving any student enrolled in French the opportunity to go on a week long trip to Paris, and that she would like to go, I immediately went to a place of panic. The thought of her travelling over the Atlantic O...
Read Taking flight: Helping a teen find her wings
Download What to expect on the legal front: from separation to divorce
In this podcast Sara Dimerman chats with family law lawyer, Lisa Gelman.
Over the course of this episode you will learn more about:
First steps towards formalizing a separation Whether the process is different depending on wheth...
Listen to What to expect on the legal front: from separation to divorce