Upcoming Workshops & Events
Sara Dimerman is available to talk to your organization, school, corporation or group on a variety of different topics. Please enquire by writing to Sara via the contact page.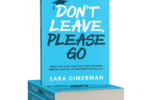 Sara will be available at several Indigo locations and specific Bed Bath and Beyond Campus Ready Shopping Events during June and July 2019, to meet and greet and sign her latest book, Don't Leave, Please Go: What you (and your teen) need to know before heading to university or college.
For mor...
Read Don't Leave, Please Go meet & greets
Sara will be offering two workshops during a weekend retreat May 10-12, 2019 at YMCA Geneva Park, Orillia, Ontario: "All my life's a circle" and "Finding passion and purpose as we age".
For more information visit the YMCA of Simcoe/Muskoka website.
Unfortunately, Sara w...
Read YMCA weekend retreat workshops