Your online resource for everything related to helping parents, children, individual adults, couples and families. This site provides expert advice, free parenting podcasts, articles, recommended reading, and links to other invaluable resources.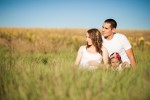 Other than my husband's birthday and Valentine's Day, when I think of special days during the month of February, I think of Family Day. This year in Canada it falls on February 15th. I think of this day as a reminder of how important family time is. Of course, as with Valentine's D...
Read Family Day – what does it mean to you?