Your online resource for everything related to helping parents, children, individual adults, couples and families. This site provides expert advice, free parenting podcasts, articles, recommended reading, and links to other invaluable resources.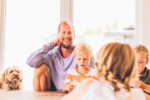 It's a brand-new year. An opportunity to wipe the slate clean and to consider how to create a more positive home environment in which your family can connect and continue to grow.
Here then are five tips:
Collaboration is key.
January is a great time to introduce monthly family meetings. Thes...
Read Fostering positivity in the family