Farhana Adatia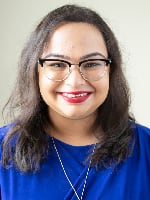 Farhana Adatia is a Registered Psychotherapist with a private practice in Ontario. She is a Certified EMDR clinician, Certified Clinical Trauma Specialist, and Level 1 Internal Family Systems trained. She has a passion for supporting others through complex trauma, PTSD, and Betrayal Trauma. Farhana has contributed to the development of courses for clinicians and has been a speaker on topics of compassion fatigue and burnout. When Farhana is not working, she can be found sipping on a cup of coffee and listening to music.
Episodes:
Life beyond the trauma of betrayal (coming soon)
---
Nicole Ali
Nicole Ali is an Anger Management and Domestic Violence Specialist with The Anger Managers. Focused on private and group psycho-educational programming and counseling, Nicole provides clients with a healing space in a variety of areas, including anger management, domestic violence early intervention, active parenting, and addictions & substance abuse.
Nicole is impassioned by helping clients who are struggling with their mental health, by providing them with the compassionate support and tools needed to help them. Nicole has extensive experience in crisis intervention and crisis counselling through the Canadian Suicide Prevention Services as a helpline counsellor.
Nicole is also a team member of The Anger Managers' sister company, Horse Therapy Centre of Canada where she provides equine assisted therapy to a diverse population of clientele.
To contact Nicole, write to nicole@theangermanagers.com or call 647-528-3412.
Episodes:
---
Tera Armel
Tera Armel is a medical student at Queen's University in Kingston, Ontario. She returned to university in August 2022 following a one-year deferral due to chronic neuroplastic pain, which was misunderstood and mistreated for an extended period of time. Ultimately, her recovery required training from a unique holistic pain program, which has reshaped her view of the healthcare system.
Tera is also a dedicated mental health advocate, working with many organizations including Jack.org, Step Above Stigma and the Centre for Youth Bipolar Disorder at CAMH (Centre for Addiction and Mental Health in Toronto, Ontario). She has played a part in projects related to suicide prevention and awareness training, education and reducing the stigma surrounding mental health. Tera hopes to empower others through sharing her story and highlighting the importance of self-advocacy within the medical system.
One of her goals is to help redefine the medical curriculum regarding chronic pain and holistic treatments.
Episodes:
---
Cecilia Arscott and her son, Matthew Melchior
Cecelia is a Jamaican Canadian and is married to Maarten, who is of Dutch nationality from the Netherlands. They are the proud parents of three children ages 15, 19 and 21. Cecelia is also a Clinical Psychologist, registered with the College of Psychologists of Ontario. She completed her bachelor's degree in psychology and French at the University of Toronto, then moved to the Netherlands after marrying Maarten. She completed graduate studies in psychology at the University of Amsterdam and began her career as a clinical psychologist. After13 years of living, studying and working in the Netherlands, she returned to Canada in 2006 with her family. In 2010, she established CBM Psychological and Counseling services in Pickering, Ontario where she is currently the clinical director.
In addition to her work as a psychologist, Cecelia is invested in giving back to the community by taking part in a variety of volunteer initiatives. These include mentorship for black youth, sitting on advisory and selection committees, and contributing to increasing mental health awareness and accessibility in the black community. In her free time, she can be found reading, getting together with family and friends, travelling near and far, going to the gym and spending time outdoors.
Matthew is a 19-year-old 3rd year computer science student at the University of Toronto. Matthew is the 2nd of 3 children and currently lives at home with his parents and 2 siblings. He was born in Amstelveen, the Netherlands and was 4 years old when he moved with the family to Canada. In addition to his studies, Matthew has a part time job and regularly contributes his time to volunteer projects along with his mother. He is a fitness enthusiast, can often be found trying out cooking and baking recipes and enjoys hanging out with friends.
Contact Cecilia at cmarscott@cbmpsychologicalservices.com, 905-492-1152, and visit her website cbmpsychologicalservices.com. Contact Matthew at matthew.melchior@gmail.com.
Episodes:
---
Dr. Daniella Astorino
Dr. Daniella Astorino is a chiropractor with a background in Kinesiology and Health Sciences. Having treated patients of all ages with muscle and joint pain since 2016, she has gained valuable experience treating a variety of injuries including those arising from sports injuries, the workplace and motor vehicle accidents. During her studies, she maintained academic and clinical honours, and was recognized for her excellence in patient care. She is also certified in clinical acupuncture and enjoys using it as an added modalivty to help her patients recover from injury. In her free time Dr. Astorino enjoys spending time outdoors, cooking, and spending time with family and friends.
Contact Dr. Astorino at PromedX Sports Injury and Wellness Centre in Thornhill, Ontario: 905-882-7688.
Episodes:
---
Francis Atta
Activist, Author, Educator, Motivator, Instructor, Social Worker, and celebrated award winner, Francis Atta, is one of the most prominent speakers in Canada. He holds a C.Y.W., B.S.W. and M.S.W. from the University of Toronto specializing in mental health and health. Francis is the Founder and C.E.O. of Knowledge and Effort Yield Success (K.E.Y.S.). This organization provides keynote speeches, workshops and programs to empower, inspire and encourage individuals to pursue their goals. He is the author of "The Flip," a book that helps youth and caregivers change their lives and relationship from negative to positive. Francis is also the recipient of over 30 prestigious Canadian Awards, including; 2016 Harry Jerome Award Recipient, 2015 premier torchbearer for the Pan Am Games and 2012 Canada's Top 25 Immigrant Receipt.
For more information check out francisatta.com or follow Francis on Instagram @francis.atta.
Episodes:
---
Shir Azari
Shir Azari is a singer-songwriter and actress from Richmond Hill, Ontario. Frequently compared to both Demi Lovato and Kelly Clarkson, her repertoire pulls strongly from the Pop and R&B genres. Her seasoned powerhouse vocals and electric personality are captured in her performances. Fans and friends describe her as "well-spoken", "approachable", and "incredibly driven". After studying Fashion Arts at Seneca College and Business Administration at Yorkville University, Shir has committed herself to pursuing music full-time.
As a member of the Ontario Musicians Co-operative Inc., Shir discovered her artist brand and identity through the Summer Emerging Artist Intensive Program. Recently releasing her Debut Single, "Not Alone" in November 2020.
To contact Shir, please write to her at contact@shirazarimusic.com. You can find her song on all major streaming platforms and at shirazarimusic.com/notalone
Episodes:
---
Carol Y. Barber
Carol Y. Barber is a registered psychologist with the College of Psychologists of Ontario. She has many years of experience in consultation and assessment roles with pre-school and school-age children within hospital and public school settings. Carol has a strong background in learning and developmental disabilities. She has specialized expertise in working with children who have written language and/or reading challenges, as well as consulting with parents to help them understand their child's learning style. In addition, she provides presentations to educators and parents about effective prevention and early intervention for children with reading difficulties, as well as remediation techniques for older students. Contact Carol at carolybarber@yahoo.ca.
Episodes:
---
Lauren Barrett
Lauren Barrett was born and educated in Johannesburg, South Africa and then London, England where she was awarded a Masters Degree in Psychology. In England, she worked as a medical social worker at a Regional Dialysis Unit. It was there, during the early days of the epidemic of AIDS that she began to develop and nurture skills in counselling for those who were dying and affected by grief and loss.
In 1992, she immigrated to Toronto, Canada with her husband and children, and continued working as a hospital social worker on the Regional Dialysis Unit of Oshawa General Hospital in Ontario.
In 1997, with an established interest in chronic illness and with firsthand witness to the needs of bereaved families, she opened up a private practice in bereavement therapy in Toronto. She was also a consultant to Bereaved Families of Ontario where she obtained her Canadian certification as a Bereavement Consultant.
For the past 22 years she has cared for families and individuals dealing with all aspects of grief, specializing in complicated and traumatic loss. She has also continued her training in Addiction work, and is presently a member of the International Institute for Trauma and Addiction Professionals (IITAP).
In addition to raising four children, she is an avid traveler and gardener. Her passions are her dogs and grandchildren, from whom she continually derives laughter and joy.
Please contact Lauren at laurenlynbarrett@gmail.com, work phone: 905-707 0073, cell phone: 416-520 6191
Episodes:
---
Heidi Barrett
Heidi Barrett is a married mom of two children (Dylan, aged 7, is pictured here) and has been a graphic designer for 25 years. She lives in Toronto in what she describes as a an amazing artist community. To contact Heidi, email her at heidib73@gmailcom.
Episodes:
---
Carly Basian
Carly Basian is a leading curriculum expert in sexual health education in Ontario. Carly received her Bachelor of Arts in Psychology at Ryerson University in 2013, where her interest and passion in sexual health and sexuality sparked. Carly completed her Masters of Teaching degree at the University of Toronto in 2015 and also received her Ontario College of Teachers (OCT) certification.
Throughout her graduate studies, Carly conducted research in the field of sexual health. She was a Graduate Assistant in an HIV prevention lab in 2014 and completed her Masters thesis on best practices teaching sexual health education at the high school level in 2015. Additionally, Carly was a peer sexual health educator for students at the University of Toronto. Since the release of the 2015 Health and Physical Education curriculum, she has facilitated workshops, teaching training, and presented at conferences across Canada to discuss best practices teaching sexual health education. Carly has been featured on numerous podcasts, articles, and radio shows, including CBC's Ontario Today.
Contact Carly at mysexed.ca, WelcomeToMSE on Facebook, @my_sexed on Twitter.
Episodes:
---
Dr. Laurie Betito
Dr. Laurie is a clinical psychologist with a specialty in sex therapy, and has been a practicing psychotherapist for close to 30 years. For the last 27 years she has been engaged in the world of radio and television, dispensing sex and relationship advice. She is a regular contributor to various magazines, newspapers and television shows. She is the host of a nightly Canadian syndicated call in show called Passion, where she discusses issues related to sexuality with her listeners.
Dr. Laurie is also President of the Sexual Health Network of Quebec and Past President of the Canadian Sex Research Forum, the author of The Sex Bible for People Over 50, the Director of the Pornhub Sexual Wellness Center, an online sexual health information platform, and has done two TEDx talks on the subject of sexuality.
For more information or to contact Dr. Laurie Betito visit www.drlaurie.com.
Episodes:
---
Giselle Bloch
Since 2015, Giselle has been a Board member of Toronto Pflag, a volunteer-run charitable organization which promotes the health and well-being of LGBTQ2S persons, their families, friends and allies through support and education. Giselle is the chair of Toronto Pflag's Support Committee and facilitates support meetings for LGBTQ2S folks, their families and friends. Her primary focus with Toronto Pflag is to keep families together by supporting parents when their kids come out, and educating people on LGBTQ2S issues.
Giselle also co-facilitates TRANSceptance, a monthly peer support group for parents and caregivers of trans youth and young adults, hosted by Central Toronto Youth Services.
She often meets with parents one-on-one help to gently teach them about gender identity, help them work through their emotions and navigate their own journey, and provide them with resources so that they can best support their transgender kids.
Episodes:
---
Jayni Bloch
Jayni grew up, studied and worked in South Africa until the age of 43, and has been working in Canada in private practice for 23 years. She works with individuals, couples and families. Her practice is eclectic, and she uses a combination of Cognitive Behavioral, Emotionally Focused and Depth-Psychology approaches for problems such as personal crises, relationship issues, psycho-dynamic dream work for personal growth and life turning points. She is also an artist; working with and recognizing symbolism in everyday life. The similarities of the human psyche throughout all world cultures drew her into studying the Archetypes, which portrays the unconscious elements in all people. Symbolism and Archetypes are commonly used in art, and it helps her understand the collective processes humans go through in life. The unconscious framework of being, portrayed in symbols, gives her a glimpse into the process of human evolution itself.
Contact Jayni by email at kpc@genian.net, by phone at 613-599-0937, and visit her website genian.net.
Episodes:
---
Dr. Riina Bray
Dr. Riina Bray has been the Medical Director of the Environmental Health Clinic at Toronto's Women's College Hospital and Associate Professor in the Department of Family and Community Medicine for over ten years. She was also Chair of the Environmental Health Committee of the Ontario College of Family Physicians. She has taught University level courses, won awards for her work in environmental health, spear-headed multiple educational and academic programs, been involved in multiple government-funded research projects, mentored and taught hundreds of medical students, residents and peers in the area of environmental health and been an advocate in environmental health for many years.
Learn more about Dr. Bray's clinic in King City, Ontario at riinabraymd.ca
Episodes:
---
Domenico Capilongo
Domenico Capilongo, or Mr. C as he is affectionately referred to by his students, has been teaching English to secondary school students for the past seventeen years as of 2017. In his down time, Dom is an assistant karate instructor to kids and adults and also finds time to write as he has authored four books: 3 poetry collections and one short fiction collection. He is married and dad to 2 sons.
Episodes:
---
Leonard Carr
Leonard Carr is a clinical psychologist who has over forty years of counselling experience. He has worked in a diverse variety of settings such as schools, hospitals, crisis intervention centres and children's homes in his early career. Leonard is a past chairperson of the South African Association of Marital and Family Therapy and is an accredited Mediator.
Leonard runs growth courses and workshops in the areas of leadership, organizational functioning, personal growth, dating, marriage, parenting and interpersonal relationships and is internationally recognized as an expert on personality and relationships.
He is regularly called upon by media, had his own radio show and writes for various publications internationally.
To listen to more of Leonard's helpful advice, check out LeonardCarr on YouTube.
Episodes:
---
Colin Chan
Colin Chan is an Occupational Therapist with CBI Health Group. He graduated from the University of Toronto in 2004 and from Queen's University with a Master's in Occupational Therapy in 2006. As an Occupational Therapist (OT) he works with clients experiencing physical, cognitive, and/or emotional difficulties, and regardless of the issue or diagnosis, his focus is on restoring function and helping clients return to activities and lives that are meaningful. His work has been in clinic, working within multi-disciplinary teams, but in more recent years, in community, working closely with clients in their homes, their communities, and their workplaces. Colin currently acts as the Provincial Manager in the Psychological Trauma Community Rehabilitation Program at CBI, where he leads a team of OTs across the province in delivering the highest quality care to individuals who have experienced trauma, helping them to build resilience, to achieve post traumatic growth, and to ultimately continue to live life following trauma. Colin believes that there is hope for all individuals, and that with the right care and treatment, from the right clinician, people can do better than just cope with their symptoms. Rather, individuals can actually be better, and move forward from their trauma once and for all.
Episodes:
---
Tiffany Chow
Dr. Tiffany Chow serves the University of Southern California's Alzheimer's Therapeutic Research Institute as the Director of Clinical Monitoring and Diversity Strategist.
Prior to her current work for ATRI, Dr. Chow cared for patients with early-onset dementias and their families. Her research has spanned observational studies of behavioral disturbance in dementia, structural and functional neuroimaging, clinical trials, and knowledge translation. Her publications include reporting from both quantitative and qualitative approaches to the field.
Dr. Chow's commitment to caregiver issues in dementia has motivated her active participation on the Boards of Directors for the Alzheimer's Association and the Alzheimer's Society, as well as her position as a charter Medical Advisory Council member of the international Association for Frontotemporal Degeneration. She has brought an intergenerational approach to her outreach to caregivers: there is a website for children who are caregivers to middle-aged parents with dementia, and an educational activity book for children too young to access the internet, Frank and Tess, Detectives! which was translated into Welsh (download at www.dementiability.com).
In the past Dr. Chow was a Senior Clinician-Scientist at the Baycrest Rotman Research Institute and Behavioural Neurologist at the Sam and Ida Ross Memory Clinic in Toronto. She held a dual appointment as Associate Professor of Neurology and Geriatric Psychiatry with the University of Toronto. She has served on the Board for the Alzheimer Society of Toronto and for Dancing with Parkinson's. Her book, entitled The Memory Clinic (Penguin, January 2013), serves as guide for caregivers based on successful dharma concepts, a memoir of her grandmother who was asymptomatic for Alzheimer's disease, and, accordingly, a review of how to decrease one's risk of dementia.
Read Dr. Chow's blogs for caregivers, and reach her through LinkedIn.
Episodes:
---
Valerie Chubey
Valerie Chubey has been selling Real Estate since 2004 and has been awarded the 'Remax Hall of Fame Award', earned the prestigious 'Platinum Award' and most recently has received 'Remax's Lifetime Achievement Award'. Valerie has a passion for helping people and believes a home is more than just a house or condo. It's a place where at the end of the day you feel safe and secure like a cozy blanket. It is a place where you can close the door and surround yourself with your loved ones and items that make you feel happy no matter what type of day you have had. Valerie's perspective on customer service, attention to detail and relationship building abilities helps her to put her clients needs first. Valerie believes in making buying a home stress free and a smooth and happy experience for her clients.
Valerie and her husband Rob work as a team selling Real Estate in the GTA, Durham and Niagara Region. Both combine their business savvy and organized approach with over 20 years of experience in marketing and relationship building abilities. Using creative thinking, cutting-edge marketing and technology they are able to offer exceptional customer service to their clients.
Contact Valerie at valeriechubey@rogers.com or by calling 416-399-2579.
Episodes:
---
Dr. Nicky Cohen
Dr. Nicky Cohen is a Registered Psychologist in private practice in Toronto. She received her Ph.D. in Clinical Psychology from York University and developed an interest in parenting issues related to children's sleep disturbances after having her first child. She is active in the community disseminating information on healthy sleep practices and increasing awareness of the importance of making sufficient sleep a family priority. Dr. Cohen has held various research and clinical positions at the Centre for Addiction and Mental Health, the Hospital for Sick Children, and the University Health Network (Toronto General Hospital). More information about Dr. Cohen's work can be found at drnickycohen.com.
Episodes:
---
Betty Cornelius
Betty Cornelius is the founder of CANGRANDS KINSHIP NATIONAL SUPPORT, a national grass roots organization providing information and support to the 62,500 kinship children being raised by grandparents and other kinship family members. Betty works tirelessly providing encouragement, moral, and emotional support to kinship families. In 1997 Betty got Bill 27 started, the first grandparent bill for Ontario and has worked on 4 others since. Betty established the first Kinship Conference and Camp in Canada which has become a lifeline for kinship caregivers. Betty started a project called Hands & Hearts quilt, which is a quilt that is traveling across Canada to promote both denied grandparents and those raising grandchildren. Click here to view Hearts & Hands Quilt. Betty spoke at the First International Kinship Conference held in New York in 2007, and in March 2008 at the AARP in Washington DC as well as at the United Nations Youth round table in Ottawa. In 2011 Betty was nominated for Everyday Heroes for Chatelaine magazine as well as was one of the top ten finalists for Grandparent of the Year for GRAND magazine. On top of all she does for kinship families, Betty has fostered 32 children over the past 30 years. She is mother of two grown boys, one multi handicapped. She is denied access to her first granddaughter and has raised her 18 year old grand daughter since she was three years old.
To book Betty as a speaker or for more information on kinship or denied access issues call: 639-318-0435.
Episodes:
---
Amanda Cupido
Amanda Cupido is the Director of Talk and Talent at AM 640 Toronto. She began her radio career working as a producer, reporter and news anchor at Newstalk 1010 CFRB. Her love for audio spanned to podcasts – she's produced more than 20 series over the last decade. In 2018, Amanda wrote Let's Talk Podcasting: The Essential Guide to Doing it Right and in 2020 she founded Lead Podcasting, which specializes in creating podcasts for thought leaders and organizations. Amanda also redefined the radio courses within the School of Journalism at both Seneca College and Ryerson University, where she continues to teach part-time. Amanda has a Bachelor of Journalism from Ryerson University and a Master of Professional Studies in the Psychology of Leadership from Penn State. She can be reached at amanda@leadpodcasting.com.
Episodes:
---
Kate Davidson
Kate Davidson is a registered Psychological Associate currently working in the public school system and in private practice in the Greater Toronto Area. She has a strong background in learning disabilities, developmental psychology, neurodevelopment and behaviour management. Kate conducts psychological assessment work with preschool and school-aged children, and adolescents. She also offers individual and group therapy to develop coping skills to manage a variety of academic and social difficulties. Kate has experience working in the public and private school settings, and provides professional development seminars to parents and teachers on a wide range of topics. Contact Kate at assessment@live.ca.
Episodes:
---
Suzanne Dennison
Suzanne Dennison is a Registered Psychotherapist and Clinical Supervisor in private practice. A published author, she has worked in both the public and private sector for over 30 years and if asked would say her practice work is progressive, selecting from a number of different modalities to best suit the client need. She is recognized as an 'expert witness' in individual and family therapy by the provincial court system of Ontario, sits on several Boards and is also the President of the OAMHP, the Ontario Association of Mental Health Professional. For additional information you can follow these links to learn more on her practice work or public role in mental health.
Episodes:
---
Chloe Dimerman
Chloe Dimerman is a fourth-year psychology student at Queen's University in Kingston, Ontario. She has been an active volunteer and leader throughout her schooling years. In grade four, she and a group of friends created The Thinkin' Cap club where they fundraised for Camp Oochigeas. As a teen, she participated in BBYO youth group for four years and was elected as Head of Communications and Programming for her chapter. During her second year at Queen's, she helped to found a sorority, called Delta Pi, and has seen it from inception to where it is now – a group of approximately twenty "sisters" that regularly get together to participate in sisterhood, bonding, philanthropic, and other great events. Chloe contributed to Don't Leave, Please Go in 2019, a book written by her mother during Chloe's first year away in residence at university. Further to the book's release, Chloe and Sara have co-presented several times to graduating high school students and their parents. Chloe has since helped several of those teens to integrate into university life.
Episodes:
---
Dr. Joey Dimerman
Dr. Joey Dimerman entered the insurance and financial industry as an independent insurance advisor in 2009 after a 21-year career as a Chiropractor. Recognizing his love for working with and helping people, and realizing the importance of understanding insurance and financial needs, he chose this second career realizing that he could use his medical knowledge when helping clients figure out which products and services would best suit their individual needs. Joey's clients have the added benefit of being able to trust in his ability to explain the relationship between their health and insurance needs and with his medical background, to negotiate and work confidently with insurance agencies on their behalf.
You can reach Joey at dimerman@sympatico.ca or by calling 416 805 3864.
Episodes:
---
Jane Doucet
Jane Doucet is a Halifax-based journalist whose articles have appeared in myriad magazines and newspapers, including Chatelaine, Canadian Living, Halifax Magazine and The Globe and Mail. In 2017, she self-published her debut novel, The Pregnant Pause—about a married woman turning 37 who is trying to decide whether or not to have a baby—which was shortlisted for a 2018 Whistler Independent Book Award. Her second novel, about a married couple in their late 50s who open a sex shop in Lunenburg, N.S., will be published by Vagrant Press/Nimbus Publishing in 2021. Jane's humour-filled novels explore relatable relationship struggles that are touched by love, longing and loss.
To contact Jane, visit thepregnantpause.net or email at jane.doucet@eastlink.ca.
Episodes:
---
Ann Douglas
Ann Douglas is a regular contributor to CBC Radio and a bestselling parenting book author. She is currently writing a book for and about women at midlife. See more at www.anndouglas.net.
Episodes:
---
Denise Dubyk
Denise Dubyk has been the National President for MADD (Mothers Against Drunk Driving) Canada since 2010. Prior to her current position, she was the Regional Director for the Prairie Provinces, North West Territories and Nunavut Region.
Denise works passionately at educating and creating awareness about impaired driving and advocates to provincial and federal governments regarding strengthening impaired driving legislation.
Denise believes that stopping impaired driving is everyone's responsibility. That by working together, with the strength and commitment of the MADD Chapters across the country and under the leadership of MADD Canada, positive changes will continue to be made in our communities to lessen fatalities and injuries attributed to impaired driving.
Episodes:
---
Brent Edwards
With 30 years of business development, marketing and product development experience in the Greater Toronto Area, Brent thrives on building relationships with economic stakeholders across a broad range of industries and markets. His passion is coaching newcomer entrepreneurs and job seekers on how to improve their professional networking skills.
Contact Brent at BrentCanada Experiences and visit Networking for Newcomers on YouTube.
Episodes:
---
Lana Feinstein
Lana Feinstein has worked in the child and youth social services field since 1994. She has a diversified work history with experience in child behaviour, parent education and not-for-profit management.
Born in Winnipeg, Manitoba, her formal education includes a Bachelor Degree in Human Ecology with a focus on human development and a Master's of Science with a specialty in family studies and personality. She was the Executive Director of a youth violence prevention charity, Leave Out Violence.
She is currently the Chief Development Officer at the Schwartz Reisman Centre/Prosserman Jewish Community Centre where she focusses on building a culture of philanthropy and engaging the community in supporting growth and sustainability at the JCC.
She can be contacted by phone at 416-638-1881 ext. 4102, and by email at lana@prossermanjcc.com.
Episodes:
---
Rhona Feldt-Stein
Rhona graduated from the University of Western Ontario with a Bachelor of Science in Occupational Therapy. She has devoted her entire career of more than 35 years to the area of paediatrics. Rhona is currently the Director/Owner of York Paediatric Therapy Services, in Richmond Hill, where they provide Occupational, Physical & Speech-Language Therapy. Rhona previously worked at the Hospital for Sick Children, Southlake Hospital (Newmarket) and for the York Region District School Board. She holds a Faculty Status position with the University of Toronto, Faculty of Medicine, Dept. of Occupational Science and Occupational Therapy and is certified in Neurodevelopmental Therapy, Sensory Integration, Brain Gym and is a Level II Reiki Therapist. Contact her at rfstein@yorkpaediatrics.com.
Episodes:
---
Dr. Mary Filice
Dr. Mary Filice has dedicated her life to helping disenfranchised women and today she's here to talk about rediscovering your authentic self. You didn't hear that wrong -rediscovering. Dr. Filice says that, as children, we know our authentic selves. As we grow older, we lose them. She claims that, through some hard work, we can get back in touch with who we truly are.
A businesswoman, scholar, entrepreneur, and mentor, Mary's career is diverse as it is successful. However, the route to that success was circuitous, challenging, and downright confusing. Her professional expertise came only after – and because of – the same situations that many of you likely find yourselves in right now. The kind that keep you awake at night, that plague you with doubt and unanswerable questions: Who am I? What am I doing with my life? Is this really it? Mary has asked herself these questions. She's asked countless others. She's spent decades studying them. And she's here to help you answer them.
Mary's circuitous life-route makes her uniquely suited to helping others approach similar questions. Originally the founder of a high-end clothing business in Toronto, introspection guided her away from the fashion industry. She found a truer version of herself, a happier version, when volunteering for organizations that empowered low-income, marginalized women. Eventually she became president of a women's non-profit, Women Affirming Women, that intervened in vulnerable and abused women's lives when they most needed help. Simultaneously she attained her PhD in Philosophy and Theology where she focused on Human Development.
Touched by the change she saw, her journey moved her away from the broad and theoretical and into the personal and the practical. Several years ago, Mary found the Enneagram; a psychological and spiritual testing tool that reveals a path for recovering one's true identity. She has since dedicated her life to coaching and helping disenfranchised women (and men) one at a time by using the Enneagram to help them discover who they are at their core and how they can be all they are called to be.
Mary says that The Enneagram of Personality "illustrates the ways we get lost, but also the ways we can come home to our True Self. It helps us realize our gifts as well as come to terms with our addictive patterns that chain us to our greatest interpersonal, spiritual, and emotional challenges". The Enneagram has become one of Mary's main tools when coaching women.
In addition to both her coaching and philanthropic enterprise, Mary is currently the Director of the Masters of Theology program at Ohio Dominican University.
Episodes:
---
Diane Flacks
Diane Flacks is a writer and performer in theatre, TV, radio, and fiction. She has written and performed in theatres across the country and in New York and Los Angeles. She has also written for, and appeared on, numerous Canadian TV series, including The Kids in the Hall, as a result of which she was nominated for a writing Emmy.
Diane can currently be heard as CBC radio's national parenting columnist, and as a regular contributor to Definitely Not the Opera. She adapted Her book, Bear With Me, What They Don't Tell soYou About Pregnancy and New Motherhood into a hit solo show, Other highlights of her career include being a feature columnist for the Toronto Star and the Globe and Mail. Aside from her writing and acting career. Diane is a busy mom to two sons, aged 10 and 6. She has been with her partner for 17 years and married to her since same sex marriage became legal in 2004. Visit www.Dianeflacks.com.
Episodes:
---
Dr. Joanne Foster
Dr. Joanne Foster is an expert in gifted education and child development, and she is a multiple award-winning author. She wrote Bust Your BUTS: Tips for Teens Who Procrastinate (recipient of a 2018 Benjamin Franklin Award), and Not Now, Maybe Later: Helping Children Overcome Procrastination. She is co-author (with Dr. Dona Matthews) of Beyond Intelligence: Secrets for Raising Happily Productive Kids, and Being Smart about Gifted Education. Dr. Foster's newest book is ABCs of Raising Smarter Kids: Hundreds of Ways to Inspire Your Child. Throughout the year, she conducts teacher-training workshops; does podcasts; gives presentations to educators and parent organizations in local, national, and international forums; writes a column for The Creativity Post; and serves on advisory committees concerning children's education and optimal development. Her work focuses on supporting and encouraging children's well-being—including their intelligence, creativity, productivity, and self-confidence. To learn more or to contact Dr. Foster, go to www.joannefoster.ca.
Episodes:
---
Lisa Freud-Goldman
Lisa Freud-Goldman is a registered social worker with more than 30 years of experience working in the field of mental health and the treatment of anxiety, depression, obsessive compulsive disorder, eating disorders, relationship issues, post-traumatic stress syndrome, grief, anger management, and addictions.
She utilizes a variety of treatment approaches that include: Cognitive Behavioural Therapy, Narrative Therapy, Mindfulness Based Cognitive Therapy for anxiety and depression, Compassionate Mind Training, Self Esteem work and Prolonged Exposure Therapy for trauma.
Lisa can be contacted at lisafreudgoldman@gmail.com or by calling 416-568-2406.
Episodes:
---
Endre Gabori
Endre Gabori is the Chief Experience Officer at the Bulletproof Husband Inc, "a company committed to bettering the quality of marriages around the world so that children can grow up in healthy family environment." Endre holds a Bachelors in Business Administration from the University of Toronto where he specialized in International Business. He is also a Neuro-linquistic Programming, Time Line Therapy and Hypnosis practitioner. For more information please email egabo@bulletproofhusband.com
Episodes:
---
Andrea Garson
Andrea Garson has more than 20 years of HR experience with Tier 1 companies including Cardinal Health Canada, Roy Foss Motors, Workopolis, Dell Canada Inc., The Pepsi Bottling Group, Loblaw Companies Limited, and The Halifax Herald Ltd.organizations, practicing values based leadership. She is a leading authority on culture, engagement, leadership development and attracting and retaining key talent. A seasoned presenter, Andrea has spoken across Canada at conferences, seminars, universities and colleges for groups as small as 20 and as large as 500.
Andrea's expertise in the field of career management, employee engagement and retention is highly regarded, having been featured in a number of media outlets including: Toronto Star, Canadian Human Resources Reporter, Benefits Canada, Metro News and on CBC, CTV, and CP24.
Andrea holds a Bachelor of Science and an MBA from Dalhousie University. She is a member of The Human Resources Association of Ontario, holding their highest designation of CHRL.
Check out Andreas website at www.breakingglass.ca.
Episodes:
---
Kimberly Gawne
Born and raised in Ontario, Canada, Kimberly's early years were shaped by a curiosity and hunger for knowledge. Recognizing the transformative power of education, she first earned an Honors degree in English and History, followed by a Bachelor's degree in Education. It was during her studies that she discovered her innate ability to inspire and connect with students, leaving a lasting impact on their educational journeys.
As her career unfolded, Kimberly saw firsthand the challenges faced by students from various backgrounds, recognizing the need for a more tailored and supportive educational environment. This realization ignited her entrepreneurial spirit, prompting her to establish Star Students, a platform that aims to provide equal opportunities for all learners.
Kimberly's tireless commitment to educational empowerment extends beyond the classroom. Recognizing the importance of community involvement, she has worked closely with local organizations and government bodies to advocate for educational reform and equal access to quality education. Her dedication to making a difference has earned her accolades and recognition from both peers and industry experts.
Episodes:
Is homeschooling the right choice for every child? (coming soon)
---
Lisa Gelman
Lisa is the owner of the family law firm, Gelman & Associates, which she started in 1996. Since then, the firm has grown to serve clients through six offices – in North York, Downtown Toronto, Mississauga, Scarborough, Aurora and Barrie. Lisa's promise to clients has always been to guide them with compassion and understanding, while aggressively defending and protecting their rights. Lisa is a graduate of the University of Western Ontario where she received her B.A. Then it was on to Osgoode Hall Law School to obtain her LL.B. When not practicing law or tending to her other entrepreneurial pursuits, her son and young twin daughters certainly keep her grounded. Lisa can be reached at lgelman@gelmanlaw.ca or by visiting her website at www.lisagelman.com.
Episodes:
---
Michael Gibben
Michael Gibben is an Ontario certified teacher from Toronto, Ontario and the founder and president of I.M. Success Tutoring. He has worked in the field of education for over a decade, coaching thousands of parents and children to create success in both a child's confidence and their academics. I.M. Success Tutoring develops customized mentor-tutoring programs for children ages 5 through 12. Michael's e-book "Toys are not the enemy: Making toys the unsung heroes of homework time!" will be released spring 2016.
Episodes:
---
Janice Goldmintz
Janice has weathered a number of significant losses in her life, including the loss of her child. Along with personal experience, a background in gerontology, and further to coaching and supporting others, she is passionate about bringing the subject of grief out into the open, thus breaking the taboo of speaking about it.
For more information, contact Janice at janice@survivingchildloss.com, visit her website survivingchildloss.com or call her at 647-780-2258.
Episodes:
---
Dr. Ross W. Greene
Ross W. Greene, Ph.D., is the originator of the innovative, evidence-based approach called Collaborative & Proactive Solutions (CPS), as described in his influential books The Explosive Child, Lost at School, Lost & Found, and Raising Human Beings. He is also the developer and executive producer of the award-winning documentary film The Kids We Lose, released in 2018. Dr. Greene was on the faculty at Harvard Medical School for over 20 years, and is now Founding Director of the non-profit Lives in the Balance. He is also adjunct Associate Professor in the Department of Psychology at Virginia Tech and adjunct Professor in the Faculty of Science at the University of Technology in Sydney, Australia. Dr. Greene has worked with several thousand behaviorally challenging kids and their families, and he and his colleagues have overseen implementation and evaluation of the CPS model in hundreds of schools, inpatient psychiatry units, and residential and juvenile detention facilities, with dramatic effect: significant reductions in discipline referrals, detentions, suspensions, and use of restraint procedures and solitary confinement. Dr. Greene lectures throughout the world and lives in Portland, Maine.
Episodes:
---
Melanie Gross
Melanie Gross is the founder of Restoring Order. She specializes in working with professionals and home owners to reduce their stress and educates them how to take back control of their productivity, time and space. She does this by helping them sort through, purge, clear their clutter and organize their offices and homes. In addition, she takes the stress and strain out of moving by organizing and staging homes to improve the selling price. As a member and part of the Executive Board of the Toronto Chapter of Professional Organizers in Canada, Melanie is responsible for organizing the meetings as well as inviting presenters to talk on educational topics at the monthly meetings. She is also a member of the American based Institute for the Challenging Disorganized (ICD) and has completed her Level I certified Professional Organizer in Chronic Disorganization and is working towards obtaining her (CPO-CD®) (Certified Professional Organizer in CD) certification. Contact Melanie at 647-338-7733.
Episodes:
---
Stephanie Gutnik
Stephanie Gutnik is the Global Head of DOOH (Digital Out of Home) at Yahoo, responsible for defining overall strategy, product features and go-to-market plans for the channel. She previously held roles as Vice President, Digital Strategy and Programmatic Sales at OUTFRONT Media and Vice President, Business Development at Broadsign. She also ran Marketing for Broadsign and worked in ad sales at News Corp.
Stephanie is a frequent public speaker, on the Board of Directors and Co-chair of several Associations and Advisory boards. She graduated with a BA from McGill University, a MBA from Edinburgh Business School and is currently pursuing a doctorate studying the advertising effects of CTV (Connected TV) and DOOH.
Episodes:
Beyond School: Preparing yourself for the working world (coming soon)
---
Dr. Jemma Helfman
Dr. Jemma Helfman is a clinical psychologist working in private practice at The Feelings Place and Kidcrew in Toronto, Ontario. Dr. Helfman trained at the University of East London, England and has worked with children and families for over 15 years. Dr. Helfman takes a systemic approach to understanding her client's concerns and works with parents and children on a wide range of mental health concerns. Over the years, Dr. Helfman has developed a passion for and expertise in working with children with selective mutism. Selective mutism is an anxiety disorder that results in functional impairment, typically inability to speak in school when there are no issues with speaking at home. After years of being interested in selective mutism, Dr. Helfman learned about effective interventions through volunteering at Confident Kids Camp, a camp for children with selective mutism in Michigan. Dr. Helfman has been growing her business through working with children with selective mutism and is excited to be bringing Confident Kids Camp to Toronto this Summer.
For more information or to contact Dr. Helfman, visit thefeelingsplace.com or kidcrew.com.
Episodes:
---
Damona Hoffman
Damona Hoffman is a certified dating coach who starred in two A+E Networks' TV series: #BlackLove and A Question of Love. She's a regular contributor to The Drew Barrymore Show, The Washington Post, CNN Headline News (HLN), BET.com, and more. She also hosts and produces the weekly podcast, Dates & Mates with Damona Hoffman.
Episodes:
---
Christine Hoheisel
Christine Hoheisel is married and mom to two children. By day she catches up on sleep – when she can – and by night she is often found in her nursing position at one of Toronto's biggest hospitals. Christine is passionate about whatever she does – at home with her family, at work or with friends. She believes that treasured memories are whats most important in life and finds ways to make these happen even when the experiences seem unaffordable at first glance.
Episodes:
---
Gary Hyman
Social media consultant, Gary Hyman, has more than 30 years of technology, business and marketing experience on his resume. A software developer by trade, his career has taken him across Canada and as far as Japan where, as principal of a small systems integration company, he was integral in growing and selling the company to a NASDAQ listed organization. Back in Canada, he immersed himself in internet technologies and began showing small businesses how to leverage social media to their best advantage. Today he helps small businesses find, grow and sell products and services to their target audience online and via social media. Gary lives in Toronto with his wife and son. To contact Gary call 905-482-2810 or email him at admin@garyhyman.com. For more tips visit http://www.garyhyman.com/helpmesara.
Episodes:
---
Rozanne Israel
Rozanne Israel is a Speech-Language Pathologist with 18 years experience working with young children and their families. Rozanne graduated from the University of Cape Town, South Africa in 1993 and moved to Canada where she has worked in hospital settings and children's treatment centres. She trained in the PROMPT approach to motor speech disorders and worked for 11 years at the Speech and Stuttering Institute, an internationally reknowned centre for children with motor speech disorders. Rozanne has consulted to the Toronto Preschool Speech and Language Services and held held a Faculty Status at the University of Toronto for a number of years before opening her own full time private practice. Currently, Rozanne works with children aged 18 months to 10 years old. Contact Rozanne at rozanne@funtotalk.ca and www.funtotalk.ca.
Episodes:
---
Donna Jacobs
Donna is a Clinical Psychologist who has been in private practice for over 40 years.
Donna has devoted her career to helping adults and couples become their best selves. Over the decades, Donna's sessions with clients led her to develop her own therapeutic model known as "Self-Integration" Model.
Donna's book entitled "Becoming Your Best Self" explains the parts of self she has identified and teaches people how to heal from past wounds. Donna also runs workshops and webinars in order to reach as many people as possible to help them overcome the obstacles preventing them from achieving their psychological and emotional goals.
Donna is also a performing artist – she has sung professionally and performed in many musical theatre productions over 5 decades. She has been a regular guest expert on City Line Television with Marilyn Dennis and her love of performing translates well to her workshops and to her youtube videos.
Episodes:
---
Alexandra Jai
Hailing from Santiago, Chile, Alexandra is a hand drumming and yoga teacher, rhythm and movement facilitator and performer with over 30 years of experience. Initiated in her teens into the healing power of the drum by Yoruba master drummer Olatunji Babatunde from Nigeria, Alexandra plunged heart-first into the study of hand drumming, learning traditional West African, Afro-Cuban, Brazilian and Middle Eastern drumming from master percussionists across the globe. Called to share the healing she'd received, in 2003 Alexandra co-founded Rhythm Bliss where she began integrating hand drumming instruction with yoga philosophy, mindful movement and breath practices. She has since shared her passion for Mindful Hand Drumming and Movement with tens of thousands of students worldwide through the Rhythm Bliss program.
Episodes:
Drumming out your feelings (coming soon)
---
Dr. David Kanawaty
Dr. David Kanawaty is a graduate of the Faculty of Medicine at the University of Toronto and furthered his studies in Internal Medicine, Respiratory and Sleep medicine at Queens University in Kingston, Ontario. Currently, Dr. Kanawaty is the Medical Director of the Sleep Diagnostics Centre in North York, Ontario, the Barrie Sleep Disorders Clinic in Barrie, Ontario and the York County Sleep Disorders Centre in Newmarket, Ontario. He is an Instructor at the University of Toronto's faculty of Medicine and an active staff Internist and Respirologist at North York General Hospital since 1990.
Episodes:
---
J.M. Kearns
J.M. Kearns, PhD, is a writer of fiction and non-fiction who has at various times been a philosopher of perception, a crisis counsellor and a music journalist. He brings to relationship books the unusual combination of a philosopher's analytical mind and a novelist's insight into emotions. His best-selling Why Mr. Right Can't Find You (2007-8) was embraced by readers and the press on both sides of the Atlantic and has been featured on Oprah & Friends Radio and in OK! Magazine, Glamour, Cosmopolitan-UK, Maclean's, The Toronto Star, and many others. Since then three more Kearns books have been published to critical praise: the novel ex-Cottagers in Love (2008), and the relationship books Better Love Next Time (2009) and Shopping For Mr Right (2011). A witty, engaging speaker, J.M. Kearns grew up near Toronto, Canada and now lives in Cape May, New Jersey with his partner Debra. For more on Kearns and his writings, please visit www.jmkearns.com.
Episodes:
---
Rick Kelly
Rick Kelly is a Professor in the Child and Youth Worker program at George Brown College in Toronto. He has been explicitly using a Restorative/Peacemaking philosophy for the past 12 years as a restorative conference facilitator and trainer, and, implicitly throughout his career, and as a parent of 5 children and a baseball coach. In his explicit work his mission has been to demonstrate how "best practice" work with children, youth, families and communities is by nature restorative and to integrate these beliefs and practices into his teaching and curriculum at the College level. He has worked with numerous Boards of Education in and around the GTA to assist them in becoming skilled at using the Restorative model. He has conducted research and published and presented at numerous national and international conferences across Canada and in the U.S. His current work sees him using the model in a 3 year "gang" focused initiative in Regent Park. Check him out at: http://justusrestorativepractices.weebly.com.
Episodes:
---
Samantha Kemp-Jackson
Samantha Kemp-Jackson is a writer, media commentator, podcaster and mother of four who lives in Toronto. With a background in public relations, digital communications and public speaking, she can be found discussing current events, parenting and related topics on national broadcast media outlets ranging from CBC Radio to CTV News. Samantha has written for a variety of publications including The Toronto Star, The Globe and Mail, Chatelaine, Today's Parent, CBC Online and more. Contact Samantha at skempjackson@gmail.com.
Episodes:
---
Clarissa Kennedy
Clarissa is a Registered Social Worker and has worked in the addiction and mental health fields for the past 13 years, in addition to being in recovery from food addiction herself. In 2018 she founded Reinvent Your Bliss Point where she works with individuals applying a holistic approach to healing and maintaining recovery.
Clarissa has a passion for empowering and supporting individuals, In her quest to educate others and to raise awareness about Food Addiction being a disease, she recently launched the podcast Food Junkies: Recovery from Food Addiction, with Dr. Vera Tarman and Molly Painschab.
At the time of being a guest on this Experts Connect podcast, Clarissa is enrolled in Bitten Jonsson's Holistic Medicine for Addiction Course. She is on the Board of the Food Addiction Institute and in 2021, was part of the team responsible for the submission of recognizing Food Addiction as a disease, to the International Classification of Diseases, published by the World Health Organization. Also in 2021, Clarissa co-presented on Food Addiction at a conference organized by the Ontario Association of Mental Health Professionals and she co-hosted the world's first ever Food Addiction Summit. along with the Food Junkies Podcast team.
To read more about or to contact Clarissa, please visit foodaddictionhelp.ca and foodjunkiespodcast.com, Facebook Group: Sugar Free For Life: I'm Sweet Enough, or call: 905-977-0230
Episodes:
---
Ailsa Keppie
Author Ailsa Keppie is a lifelong student of self-awareness and spiritual connection. She finds expression of her personal view on life and relationships through writing, coaching and working with the body. Her book, By The Light of the Crescent Moon, was released in the Spring of 2021.
In her younger days, Ailsa desperately sought fulfilment and inner peace. She studied music, science, dance, and the performing arts in an attempt to find her place and a way to contribute to the world. During this time of expansion and exploration, there was an underlying fear. Fear that she was not enough, fear of not being perfect, and a fear of being seen. At the age of twenty-five, these fears consumed her and she retreated into Fundamentalist Islam, and a polygamous marriage. She started wearing a burka in an effort to regain some sense of herself. Over the years, as she nursed her mother-in-law and raised four daughters, the containment of her chosen life became too constricting and she began to wonder if this path was truly the one for her. Finally, the overwhelming desire to once again be seen in the wider world prevailed and she left her life in Morocco to return home to Canada.
She continued to raise her daughters on her own and spent a decade learning and practicing the healing arts, which has finally led to a readiness to share her story, from a place of self-knowing.
Learn more about Ailsa on her websites pleasureforhealth.com and ourceltichearth.com.
Episodes:
s
---
Henry and Valerie Kerr
Henry Kerr was born in England on July 1st, 1913 meaning that in 2013, in his 100th year of life, he can officially call himself a centenarian. Henry, his late wife Gladys and their two children emigrated to Johannesburg, South Africa in 1954. They later moved back to the United Kingdom. Henry and Gladys had been married for 68 years when Gladys passed away in 2005. Then Henry moved into a residential care home in North London where he met Valerie.
They married in July of 2010 because Henry felt that people were whispering behind their backs and gossiping about them moving in together. He thought it would be better if they were Mr. And Mrs. His beautiful bride, Valerie, was 88 at the time. They took over the title of Britains oldest newlyweds and appeared in interviews on London TV and radio stations, as well as all over the world on the internet and in newspapers. Between them, Henry and Valerie have six children, 19 grandchildren and seven great grandchildren.
Episodes:
---
Alex Korb
Dr. Alex Korb is a neuroscientist, coach, and bestselling author of The Upward Spiral: Using Neuroscience to Reverse the Course of Depression, One Small Change at a Time. He earned a PhD in neuroscience from UCLA, and is currently an Adjunct Assistant Professor in the Department of Psychiatry at UCLA. Outside of the lab, he is a scientific consultant, speaker, and personal coach, as well as head coach of the UCLA Women's Ultimate Frisbee team. He has a wealth of experience in yoga and mindfulness, physical fitness, and even stand‑up comedy. For more info visit alexkorbphd.com.
Episodes:
---
Les Kotzer
Les Kotzer has been a Wills and Estates lawyer for almost 25 years, is the co-author of three books including The Family Fight and Where There's an Inheritance and is a regular guest on Radio and Television across North America. For more information, check out www.familyfight.com.
Episodes:
---
Amy Kung-Oliver
Amy Kung-Oliver was born in Hong Kong and moved to Canada when she was 20 years old. Growing up, she wanted to be a veterinarian but this wasn't endorsed by her parents, so she studied Communication Arts at the Ontario College of Arts in Toronto. Years later, her son Franklin at 6 years old, taught her how to knit. Amy was then exposed to scrumptious alpaca yarns, found out there are alpacas in Canada, purchased a 24 acre property in Colborne, Ontario and turned her dream of working with animals into reality. Today, she owns and operates an Alpaca farm and mill where she houses and loves 4 beautiful dogs that help to protect the alpacas, 2 cats, and 89 alpacas for people to visit and interact with. She also turns their fleece into beautifully handcrafted wares. For more information on Old Mill Alpacas farm, contact oldmillalpacas@outlook.com or visit oldmillalpacas.wordpress.com.
Episodes:
---
Janyce Lastman
Janyce Lastman, LL.B. is an Education Consultant and Case Manager. She founded The Tutor Group™ in 1979 as an outgrowth of her own very busy personal tutoring practice. As its Director, she hires and supervises TTG's network of dedicated and creative professionals: tutors, mentor-tutors and mentor-coaches. Her tutors support students in a wide variety of subjects, ages and performance levels. Her mentors reach out and connect with struggling children and youth through individualized programming, helping to relieve social, emotional and interdependence stressors in school, with peers or their community, and with families at home.
In addition to working with typical students, Janyce specializes in helping younger, pre-teen and teenage students considered at-risk, high risk or who have varied special needs including gifted and talented learners. She has advised students, parents and professionals on finding "best matched" schools and related education matters since 1985. Co-founder and show coordinator for SchoolsExpo, an annual education fair that featured schools from around the corner and across the globe, Janyce's law degree also assists her with matters of education policies and procedures, rights and responsibilities and related education matters. She is the author of two books, along with numerous print articles, guides and curriculum packages, as well as on-line professional articles, book reviews and podcasts.
Janyce regularly leads courses and seminars for parents, public interest groups and educators, and has spoken on How to Choose a School alone over 100 times. Other popular topics involve helping parents prepare and support their children for many typical, and sometimes unexpected changes and challenges between Preschool and Postsecondary. Since COVID-19 shuttered classrooms worldwide in March 2020, Janyce has been intently tracking and evaluating new ideas for classrooms community connections, instructional best practices, essential e-learning tools and basic survival strategies for schools, teachers, families and students.
You can contact Janyce Lastman at TheTutorGroup@rogers.com, phone 416-221-0018 or via her website www.TheTutorGroup.com.
Episodes:
---
Dr. Noah Lazar
Dr. Noah Lazar is a Clinical Director and co-Founder of The Downtown Psychology Clinic, which is a group private practice located in Toronto. He is certified by the Canadian Association of Cognitive Behavioural Therapies in the provision of Cognitive Behavioural Therapy, and treats a wide range of difficulties related to mood, anxiety and work stress. He also teaches numerous workshops related to the provision of CBT for mood, anxiety and complex mental health conditions.
Contact Dr. Noah Lazar at downtownpsychologyclinic.com or email info@downtownpsychologyclinic.com.
Episodes:
---
Barbara Lebo
For close to 30 years, Barbara Lebo owned and operated Lebo Media Services, a strategic marketing and advertising sales consulting agency, specializing in reaching hard-to-reach professionals. In June 2018 Barbara officially "retired" from the advertising world and began her new career in the world of Autism.
As Director and CEO of Autism Caregiver Training (ACT), Barbara utilizes her business skills and knowledge as a mom of a teenager with Autism Spectrum Disorder.
Barbara offers an incredible amount of crucial information for caregivers, healthcare and other service providers who are working with, or wanting to work with children, adolescents, young adults and adults living with Autism. Upon completion of this certification course, providers are considered to be "Autism Care Specialists" with "Autism Friendly Practices & Environments."
Contact Barbara: barblebo@rogers.com, (905) 709-9885, www.autismcaregivertraining.com.
Episodes:
---
Dr. Karen Leitner
Dr. Leitner is a registered psychologist working in private practice in Aurora, Ontario. She sees children and adolescents with a range of emotional and behavioural concerns including anxiety, depression, post-traumatic stress, ADHD, and anger management issues. Dr. Leitner also provides parenting support. Dr. Leitner is a member of the American Psychological Association, the Ontario Psychological Association and the Anxiety Disorders Association of America. She was the senior psychologist in the Child and Family Clinic at Southlake Regional Health Centre for 17 years. She also served as professional practice leader, clinical supervisor for doctoral level students, and as a member of the Ethics Committee at Southlake. Dr. Leitner was the president of the Ontario Hospital Psychology Association and a member of the Ontario Psychological Association's Disaster Response Network. Contact Dr. Leitner at kleitner@rogers.com or at 416-720-1572.
Episodes:
---
Sarah Lindsay
Sarah Lindsay was diagnosed with Bipolar Disorder in 2005 at the age of 16 and has been working as a Mental Health Anti-Stigma advocate for the past two years. She currently writes a regular column for Healthy Minds Canada and lectures about her experience with Mood Disorders and the mental health system in Canada. Sarah lives in Toronto with her boyfriend and their dog and takes archery lessons for fun.
Episodes:
---
Shauna Lindzon
Shauna Lindzon is a Registered Dietitian with over 25 years of nutrition experience. Previously, she worked as a Clinical Dietitian at Toronto's Sunnybrook Health Science Centre in Nephrology and Neurosurgery for 12 years. Since leaving this clinical setting, she has been working in the community as a Consulting Dietitian.
She is also a program developer and nutrition leader at Wellspring Cancer Support Network in Toronto and enjoys helping clients virtually and offering corporate wellness lectures.
Most recently, she has developed cooking demonstrations that combine scientific knowledge with culinary education for her clientele. Her demonstrations are unique, informative, delicious and a lot of fun. You can find a list of her nutrition classes and recipes at shaunalindzon.com and can hear her monthly on Zoomer Radio – The Tonic, discussing a variety of nutrition topics.
Episodes:
---
Dr. Laura Loli-Dano
Dr. Laura Loli-Dano brings a wealth of 27+ years of blended experience as a mental health clinician, educator, leader and administrator in health care and social services in several countries in Europe and Canada.
Dr. Loli-Dano holds a Bachelor's of Social Work Degree (Hons) from the University of Tirana (Albania); a Certificate in Clinical Psychology from the University of Aristotle (Greece); a Master's of Science in Counselling from the University of Hull (UK) and the University of La Verne (USA); a Certificate in Social Economy from the University of Toronto (Canada); a Graduate Diploma in Health Care Management from the Ontario Hospital Association (Canada); a Doctorate in Health from the University of Bath (UK) and Post-Doctoral Research Fellowship in Global Mental Health with the University of Toronto and the Centre for Addiction and Mental Health (Canada).
Helping people, from all walks of life, has been her life passion, particularly within the health care context. Her international experience has informed her approach. Dr. Loli-Dano strongly believes that while it is the State's responsibility to promote and support provision of great quality of health care for all, collectively, as a society we can make significant strides in assisting our systems remain people-centred. This motivated her to pursue her Doctorate in Health with a focus on the applicability of the World Health Organization QualityRights Standards in Psychiatric Hospitals, in Albania, as informed by the United Nations Convention on the Rights of People with Disabilities.
She also believes that all societies should permanently invest, to the best of their capabilities and capacities, in children and youth for they are the future of humanity.
She has been a Technical Reviewer for the WorldHealth Organization (WHO) QualityRights Toolkit and its global cultural adaptation. She has taught at the community college level in Toronto and Athens, as well as at the UniversityCollege level in Albania (psychology courses) and Toronto (clinical counselling and social work courses). She is also an accreditation reviewer with the Canadian Centre for Accreditation. Over the years, Dr. Loli-Dano has collaboratively secured and administered health and social services grants from municipal and provincial donors including the City of Toronto, United Way, Trillium Foundation, and others.
Dr. Loli-Dano is committed to continuing to dedicate her time and energy, for years to come, to domestic and international health care system capacity building initiatives, with an emphasis on serving and advocating for vulnerable and marginalized society groups, such as children, youth, the elderly, immigrants, and others, both in Europe and Canada.
You can reach Dr. Loli-Dano at 647-875-6350, or laura@edlanet.com.
Episodes:
---
Katharine Love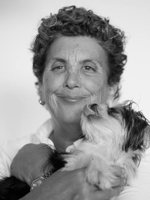 Katharine Love is a retired psychotherapist who discovered writing as a therapeutic tool to process her ongoing health issues. Katharine has been published in many anthologies and has just finished her first book, a memoir called 'Perfectly Flawed' written under her pseudonym of Barrett Rose Baum. Katharine lives in Toronto with her circus puppy Lucille. To connect with Katharine or for life coaching, Reiki energy work or tarot reading, contact her at 647-973-5311 or at lovekatinc@gmail.com.
Episodes:
---
Liana Lowenstein
Liana Lowenstein, MSW, RSW, CPT-S, Registered Social Worker and Certified Child Psychotherapist in Toronto, best-selling author of child and family therapy books, website includes articles for parents and mental health professionals. Contact liana at liana@globalserve.net or visit www.lianalowenstein.com.
Episodes:
---
Cherie MacLeod
Executive Director, PFLAG Canada
Cherie is a graduate of Ryerson University's School of Radio and Television Arts. She received further education in investment and business management and acquired several years of professional experience, including time with TDL Ltd., where she coordinated regional marketing programs for Tim Hortons Restaurants.
In 2004, Cherie joined PFLAG Canada and founded their Community Education Committee in Moncton NB. She chaired their initiative to develop anti-homophobia curricula for middle school grade levels and produced a program that deconstructs myths and stereotypes, while encouraging youth to examine their personal biases and beliefs. The curriculum has been used extensively in Atlantic Canada and by PFLAG Canada volunteers nationwide.
In 2005, Cherie became Director of Education and began redesigning PFLAG Canada's website to better support the organization's growing online community and volunteer network. The move was an important first-step in shifting PFLAG Canada from a parent and family-based organization to one that supports all Canadian residents on sexual orientation and gender identity issues.
Since becoming Executive Director in 2006, she has focused her energy on molding PFLAG Canada into an accessible resource for all Canadians. "Prejudice does not belong to any one group. Quality of life and the strength of any community are predicated on how we value ourselves and one another. Homophobia and Transphobia create issues not only for the LGBTQ community, but for the whole of society."
Cherie lives with her partner Jeff, and their thirteen year old son, David. Their daughter Stephanie is now out on her own. She became involved with PFLAG Canada following the death of her cousin, who was a gay man and an important influence in her life. Her family has supported her efforts every step of the way.
Episodes:
---
Dr. Kathy McCoy
Dr. Kathy McCoy is an award-winning author, journalist, blogger, podcaster and psychotherapist.
Some of her books include We Don't Talk Anymore: Healing After Parents and Their Adult Children Become Estranged; Understanding Your Teenager's Depression; Growing and Changing: A Handbook for Preteens and The Teenage Body Book, which has been a best seller and major award winner and is in its 7th edition.
Dr. McCoy has written numerous articles for national magazines, newspapers, and professional journals and is a frequent guest on national television. She has appeared on "The Today Show" and "Oprah." She has also been a featured expert on adolescent, family, and relationship issues for USA Today and a variety of other print and online publications including The Wall Street Journal, and The Huffington Post.
​She writes the "Complicated Love" blog for PsychologyToday.com and as well as her own blog "Living Fully in Midlife and Beyond". Her podcast, "Living Fully with Dr. Kathy McCoy" is a Women's Day magazine "Best Pick" and is available on iTunes, Stitcher Radio and Podcastpedia.
Dr. McCoy received her B.S. and M.S. degrees in journalism from Northwestern University's Medill School of Journalism. She has a Ph.D. in Human Behavior from Pacific Western University and an M.A. in Clinical Psychology from Antioch University. She is a licensed marriage and family therapist in both California and Arizona, providing online teletherapy to clients in both states and in-person therapy for clients at her Florence, AZ private practice office.
Check out Kathy's writing website at drkathymccoy.com. email her at drkathymccoy@gmail.com.
Episodes:
---
Susan McLennan
Susan McLennan and Mike Erskine-Kellie are Emmy award winning writers and producers who have written television shows for PBS, Disney XD, BBC, TVO, and CBC including Pucca, Ranger Rob, 1001 Nights, Turbo Dogs, Endangered Species, Zoboomafoo, Opie's Home, and Franny's Feet. Our first children's book, I Got You A Present! was published by Kids Can Press on April 7, 2020.
They co-created and developed the 2015 regional Emmy award winning, Scientastic for American Public Television, after developing the show and series concept. They also co-created, story edited and wrote TVO's Spellz, winner of the US International Film and Video Festival in Children's Programming and a Silver Remi at the Worldfest-Houston International Film Festival.
They're the recipients of a Harold Greenberg Award for their screenplay, The New Adventures of Jason and The Argonauts. And they're the writers and creators of the website Avery Ant and His One Minute Rant, which was selected for inclusion in the US Library of Congress.
Susan executive produced Courage to Dream for CTV, a documentary featuring some of Canada's senior most actors. She also brand managed the Kratt Brothers, creators and stars of Emmy Award winning shows Wild Kratts and Zoboomafoo; Mike's other CBC gigs include writing and performing for the Gemini Nominated CBC show Sketchcom and providing on-air humour commentary for CBC news until budget cuts saw him replaced by a tree (true story).
You can read more about their philosophy here: https://www.spikeandtoody.com/mike-and-susan
Episodes:
---
Larissa Mills
Larissa Mills has a B.A. in Sociology and Masters of Science of Education that led to her working as an Educational Behavioural Consultant in schools, as well as helping to write new policies about the use of technology. She founded iparentgen.com to help families and schools use technology wisely. She then created a school for athletes – The Mental Game Academy teaches mental skills, coping mechanisms and mindset techniques for athletes to build resilience. Larissa is also a Corporate Digital Wellness Educator for employees at various companies, a podcast host and a Mental Skills Educator with Team Canada. Contact Larissa at larissa@iparentgen.com.
Episodes:
---
Deborah Moskovitch
Deborah Moskovitch is a Divorce Coach helping people realize a more positive outcome following divorce. She understands divorce because she has been through her own seven-year struggle that ended more than 10 years ago. That process inspired Deborah to find less painful ways to manage the divorce process and share it with others. Since then, she has researched and shared proven strategies and advice from 100 of North American's top divorce lawyers, financial advisors, counselors and other experts in her best selling resource book, The Smart Divorce, now in its third printing.
Deborah is the online radio host of The Smart Divorce on Divorce Source Radio and as a regular columnist for the Huffington Post and More Magazine. In addition, she is a public speaker and media contact on the topic of divorce how-to. She has been interviewed on more than 40 television and radio shows, and is widely quoted in Canadian and U.S. print and online publications.
You can reach Deborah via email at deborah@thesmartdivorce.com or call 905-605-0270. To learn more visit thesmartdivorce.com.
Episodes:
---
Carol Mott
For thirty years, Carol Mott (along with her husband, Paul) was a well known Southern Ontario talk show host on stations such as CFRB Radio in Toronto.
When they retired from this career, Carol returned to her first love which was riding horses and teaching. In 2016, their family opened a beautiful equestrian facility just outside of Guelph, Ontario. Both Carol and her daughter, Jess, teach and help mold the next generation of equestrians.
On April 21st, 2022, Carol suffered a spontaneous hemorrhage in her spine which caused paralysis from the waist down. Our podcast shares her story of recovery and healing.
Episodes:
---
Anna-Marie Musson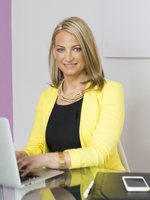 Anna-Marie Musson is a Toronto Family Lawyer with nearly 20 years experience. A graduate of Windsor Law, Anna-Marie began practising in 2003, by litigating for a prominent national Bay Street law firm, quickly moving up to senior partner.
After hundreds of hours sparring in courtrooms, she now practices Collaborative Family Law, wanting to devote her professional pur- suits towards helping families as they navigate the hardship of divorce. She is principal of Musson Law Firm in downtown Toronto.
Anna-Marie is also the host of The Modern Divorce Show which airs every Saturday morning at 10:30 on 105.9FM The Region.
Contact Anna-Marie at mlawgroup.ca, 416-639-2129, or admin@mlawgroup.ca.
Episodes:
---
Janet Nezon
Janet holds a B.Sc. with a specialty in Nutritional Science from the University of Toronto, and a Master of Health Science degree in Health Promotion, from UofT's Faculty of Medicine. After a long career as an educator and academic lecturer she founded Rainbow Plate with a mission to translate theory into practice – to bring a vibrant and fresh approach to food literacy education. Rainbow Plate's innovative, colourful and sensory-based approach has been woven into workshops and resources that inspire children, parents, educators, caregivers and health professionals to cultivate a happy, healthy relationship with food and eating.
Since launching in 2012, Rainbow Plate programs have engaged more than 15,000 children and adults across the Greater Toronto Area; in schools, camps, child care, health care and community settings.
In addition to her academic background, Janet is the proud mom of three young adult children.
To contact Janet visit www.rainbowplate.com call (416) 561-0136 or email her at janet@rainbowplate.com.
Episodes:
---
Naomi Nurgitz
Naomi is a graduate of Osgoode Hall law school. She practised law in a two-person firm for 18 years in Toronto, and worked as a mediator for 11 years while raising four children. She volunteered as a mediator at Community Mediation Services of Downsview (CMSD) for 6 years doing restorative justice and community mediation. In 2009 she trained to teach Mindfulness Based Stress Reduction and ever since, has been teaching people in the GTA how to be more resilient and happier. She is a founding member of Mindfulness Everyday, a non-profit organization in Toronto, dedicated to bringing mindfulness to schools and the community. She is a certified by UBC as a Trainer for the smartEducation TM (Stress Management and Resilience Training) workshop for Educators and has created mindfulness courses for the workplace and works one-on-one, training people in mindfulness and resilience skills.
Naomi can be reached at nnurgitz@gmail.com, 905-884-6706, and mindfulnesseveryday.org.
Episodes:
---
Allison O'Connor
Allison O'Connor believes in making a difference with Music. She received her Bachelor Of Music Honours Music Education degree and Bachelor of Education degree from the University Of Western Ontario. She continues to work for the Thames Valley District School Board with over 30 years experience and is also Owner/Director of Dreams Come True Music Studio, an inclusive Music studio for people of all ages and abilities. Allison is also the accompanist for the Forest City Singers, London Ontario.
Allison's light of her life is her son Cameron who is the chosen child for her. Cameron was born in South Korea and joined Allison as her son when he was just over five months of age. They are grateful for Cameron's Birth Mom who they had the honour of meeting in 2019.
Cameron lives with an intellectual disability and Fetal Alcohol Spectrum Disorder but these challenges don't stop him from living a full and awesome life. Both Allison and Cameron are heavily involved with their Dreams Come True Music Studio, Special Olympics, Church, Korean Culture Groups, Support Groups and are passionate about meaningful inclusion. They focus on what Cameron can do, not what he can't do. They are blessed with their village of people who surround them.
They also have a fun loving German Shepherd dog, Max who was also adopted!
To learn more about Allison and her vision please visit: dreamscometruemusicstudio.ca, DreamsComeTrueMusicStudio on Facebook, @DCTMusicStudio on Twitter, @dreamscometruemusicstudio1 on Instagram.
Episodes:
---
Therese Oldfield
Therese Oldfield is a Registered Occupational Therapist employed with CBI Health Group. Therese obtained her Bachelor of Science Degree from St. Francis Xavier University in 1997 and subsequently completed her Bachelor of Science in Occupational Therapy in 2000 from Dalhousie University. In 2000 she left the Maritimes and started her career providing community Occupational Therapy services. Therese joined CBI Health Group in 2002 and began working as the clinic Occupational Therapist at the CBI Kitchener location.
In 2009, Therese expanded into the role of Senior Occupational Therapist. Over the years she has provided mentorship and training to Occupational Therapists within the GTA, Southwest Ontario, London and the Golden Horseshoe.
Following CBI Health's acquisition of Driver Rehab Therapy (DRT) in 2018, Therese began to focus her clinical work in the field of driver assessment and rehabilitation. Presently, Therese conducts functional driving assessments for the Ministry of Transportation (MTO), in addition to conducting assessments and treatment related to driver, passenger and pedestrian anxiety, adaptive equipment and vehicle modifications. In 2019, Therese successfully obtained her certification in Driver Rehabilitation (CDRS).
Therese's current role is the Provincial Practice Lead for CBI Health Group's Driver Assessment and Rehabilitation Program. In this role, Therese provides training and mentorship in the field of driver rehabilitation to Occupational Therapists throughout the province.
You can contact Therese at toldfield@cbi.ca or by phone at 226-236-6881 (direct) or through Central Intake at 1-800-558-4599.
Episodes:
---
Rich Padulo
Rich Padulo, a proud Canadian dad, lives with his wife, Natasha, and their 11-year-old daughter, Siena, in Burlington, Ontario. Instilled with a love for Halloween by his mother and after growing up and working in the family's advertising business his whole life. Rich drew from his experience in marketing to build the Treat Accessibly Movement, with a goal of making Halloween in Canada the world's first accessible holiday tradition.
In growing the movement he has been appointed to the Ontario Accessibility Advisory Committee. So moved by the stories of the families and children that Treat Accessibly has touched, the Padulo family have adapted their lives so that Rich can focus on achieving the goal of 400,000 homes participating in Treat Accessibly by 2025. As of 2021, 100,000 homes have participated and 2022 is sizing up to be bigger than ever for the movement.
For more information, call 416-418-2007, write to founder@treataccessibly.com, check out www.TreatAccessibly.com or @TreatAccessibly on social media.
Episodes:
---
Lori Pearlstein
Lori worked as an actor, comedian, & casting director before switching gears to pursue a more "stable" career. She studied business at Ryerson; which led her to a position at Saatchi & Saatchi Advertising but her creative passions couldn't be ignored. So, Lori moved to NYC to study with Philip Seymour Hoffman, Uta Hagen & Austin Pendleton. Six years later she moved back to Toronto and founded PlayWorks, which is the culmination of her passion, creative training & formal education. Lori uses the principles of improv to help people become more comfortable with being uncomfortable, overcome fear of judgement & develop the confidence to face challenges. PlayWorks has been featured on CP 24, CBC, Rogers & CTV. Contact Lori at lpplayworks.com or loripearlstein@me.com.
Episodes:
---
Laura Plant
Laura Plant is the Director of Student Banking at RBC. She had a long road to her goofy MBA grad hat, owing to a decision to go back to school mid-career. She's also a hockey mom. Laura strongly believes in clear and concise financial advice. Visit www.rbc.com/studentsolution or #RBCStudentAdvice on Twitter.
Episodes:
---
Goldie Plotkin
Goldie Plotkin is the director of Chabad of Markham synagogue in Thornhill, Ontario and the Director of the Torah Tots Preschool. She is a also the rebbetzin at Chabad of Markham, meaning that she is married to their rabbi. She and her husband are proud parents of eight children. To contact Goldie call 905-886-0420 x227 or via www.chabadmarkham.org.
Episodes:
---
Sarah Chana Radcliffe
Sarah Chana Radcliffe is a psychologist in private practice in Toronto Canada, counseling parents, couples and individuals. Mrs. Radcliffe is the author of the self-help book "No More Tics" as well as the HarperCollins Publications "Raise Your Kids without Raising Your Voice" and "The Fear Fix," as well as 7 other books on Jewish family life and emotional well-being, including her most recent parenting book "Better Behavior Now!" Sarah Chana writes a weekly family life column for an internationally distributed magazine, gives webinars and workshops on parenting, stress management and anxiety and provides daily tools for family life and emotional well-being on her Facebook and Instagram Parenting Pages as well as through her Daily Parenting Posts Email List.
Sign up for Daily Parenting Posts (practical tips for family life delivered to your email address) at dailyparentingposts.com.
Episodes:
---
Kathleen Redmond
Kathleen Redmond MA, MCC is a certified Executive Coach (International Coaching Federation), corporate trainer, author and Instructor at the University of Guelph in the MA (Leadership) program. She is the founder of the Centre for Character Leadership (1993).
With over 30 years of management experience and a passion for leadership communication, Kathleen works in the heart of industry. Her work has taken her from Istanbul to Honolulu, to factories in the south of the United States as well as the oil fields of Alberta. Her passion is to strengthen engagement and productivity through rich communication.
She has been published in the Globe & Mail and Municipal World as well as other journals.
Kathleen has written five books; Rules of Engagement for Communicating at Work: 5 Strategies for Decreasing Conflict and Increasing Collaboration, Leadership by Engagement, Leading Through Authentic Character to Attract, Retain and Energize, Building a Character Culture for Trust and Results in the Workplace and Communicating in a Character Culture with Tact, Integrity and Courage in the Workplace, was published in June 2015. and Coaching in a Character Culture.
She is a resident of York Region, Ontario, volunteers with the Leadership Coaching Counsel, the Character Community Foundation and is a member of 100 Women Who Care. She enjoys snow-shoeing, cooking and is currently facilitating Zoom meetings to stay in touch with clients, colleagues and loved ones.
Contact Kathleen at kr@centreforcharacterleadership.com.
Episodes:
---
Gorett Reis
Gorett Reis is a certified Life and Career Coach as well as Speaker. She works with peope who feel stuck, stressed and dissatisfied, who are looking to advance their careers or find direction. She has three degrees from the University of Toronto and speaks about career and life fulfillment through talks, Lunch & Learns, webinars, and podcasts.
To contact Gorett, you can visit her website at www.gorettreis.com or email her at info@gorettreis.com.
Episodes:
---
Robin Rinaldi
Robin Rinaldi is an award-winning journalist whose work has appeared in The New York Times, The Atlantic, Poets & Writers, Yoga Journal, Oprah Magazine, and many others. She is the author of The Wild Oats Project, a memoir detailing her open marriage and its consequences. She lives in New York City. See www.robinrinaldi.com or follow her on Twitter @Robin_Rinaldi.
Episodes:
---
Dr. Jillian Roberts
Considered a go-to child psychology expert for journalists, Dr. Jillian Roberts is a regular contributor to the Huffington Post, Global News and the CBC. She is the author of two best-selling and award-winning series of children's books. "Just Enough" explains topics like birth and diversity to children ages 3-6, while "The World Around Us" introduces kids ages 5-8 to issues like poverty and online safety. She is also the author of "Kids, Sex & Screens: Raising Strong, Resilient Children in the Sexualized Digital Age", a book for parents seeking to help their preteens navigate our hypersexualized world. In addition to being a highly sought after child psychologist, tenured associate professor and author, Dr. Roberts is also a wife and a mom to three children.
To read more about or to purchase any of Dr. Jillian Roberts books, visit familysparks.com/shop
Episodes:
---
Fiona Roche
Fiona Roche is a social worker, psychotherapist and has been working with individuals, couples and groups for 30 years. For fifteen of those years she worked at a multiple addiction treatment centre in Toronto as a therapist and psychodrama workshop leader and trainer in addition to specialising in sex addiction treatment. For the past 6 years she has been full time in her practice in Thornhill, Ontario and focuses primarily on working with individuals, partners, couples and groups in recovery from sex and love addiction. For more information, contact fiona.g.roche@gmail.com.
Episodes:
---
Andrew Rodie
Andrew Rodie is a business man, entrepreneur, musician, artist, scientist and a father. Over the past two decades Andrew has worked and contributed in the field of environmental chemistry, marketing communications and political finances audit consulting. Recently, Andrew co-founded the new startup company SafeSellBuy which focuses on providing safety, at a community level, to individuals who sell and buy cars privately (since no consumer protection legislation exists).
Episodes:
---
Vera Roncon
Vera Roncon is a Clinical Psychologist who over the past 25 years has worked in various Toronto area hospitals and mental health agencies. She currently runs a full time private practice where she works with adults seeking help for a variety of mental health issues. She has a special interest in working with transitional aged adults who may be struggling with ADHD, anxiety, mood and eating issues. She is a warm and compassionate therapist who works from a collaborative and integrative approach, drawing on her training in cognitive behaviour therapy, trauma based therapies, mindfulness and holistic approaches. She lives in Toronto with her partner and 3 sons, but visits her family in Portugal as often as possible!
Contact Vera at 416-488-2838, info@orchidclinic.ca, orchidclinic.ca.
Episodes:
---
Suzy Rosenstein
Suzy loves her second career as a Master Certified Life Coach. She's also the host of the popular midlife podcast, Women in the Middle: Loving Life after 50! Thankful for her layoff, Suzy knew there was more out there for her. She also knew she had always been attracted to relationship building and personal growth. That's how she discovered The Life Coach School and never looked back. She holds a Master's Degree in Applied Social Psychology and has decades of combined experience in health education, communication, health promotion and life coaching. She's a firm believer that the best really is yet to come!
Contact Suzy through suzyrosenstein.com or email at info@suzyrosenstein.com.
Episodes:
---
Lesley Rosenthal
Lesley Rosenthal is a Social Worker who, in 2021, launched a grief counselling service for pet parents called Animal Rites, holding space on your journey. She did this following the completion of a certificate course in Pet Loss and Grief Companioning as well as a Social Work Certificate Course in Animal Hospice and Palliative Care with the International Association for Animal Hospice and Palliative Care.
She adds to these credentials a two-decade long career as a Registered Social Worker specializing in human health care. In this role, she provided supportive, adjustment, grief and crisis counselling to individuals, families and support networks in and out of the hospital setting as well as offering education, resource and advocacy services. Lesley excels as a liaison between team and family members to ensure seamless quality care. Her strength is in assisting others in developing and achieving goals in the areas of grief, behaviour, coping, anger, stress/anxiety and pain.
As a pet loss and grief counselling Social Worker, Lesley offers pet parents who are coping with an aging and/or sick and dying pet, the opportunity to gain support and understanding. Pet loss is often a disenfranchised grief and, as a result, family and friends may not be as supportive as we might like or need them to be.
Given that death is part of the natural life cycle of our relationships with our pets, Lesley is confident that there are many pet parents who will benefit from additional emotional support, assistance with decision making, resource counselling and planning.
Lesley is not only trained in this role, but she has lived through her own pet loss experience. In 2015, she lost her beloved golden, Lola, to cancer. According to Lesley, when she learned of Lola's cancer, she was shocked, confused, overwhelmed, and utterly heartbroken. Lola died 3 months after her diagnosis and Lesley was devastated.
In retrospect, Lesley recognized that she would have done many things differently. Without resources and support, she felt alone while navigating unchartered territory. Her veterinarian provided her with treatment options and subsequently euthanasia when treatment was no longer effective. During this time, Lesley felt she never received the support she desperately needed in grief, both anticipatory grief, and then grief following loss.
Following Lola's passing, Lesley knew there has to be others who likely need the support she never received from a trained professional or otherwise. She also knew, undoubtably, that she would have done things differently if support and additional resources and information were provided to her. As a result, Lesley feels strongly about offering clients on-going discussion, information, and resources so that they are able to make informed decisions and look back, at the very least, without regret.
Lesley's website is www.animalrites.ca On her website, one can discover how Lesley might be of help to someone who finds themselves on this journey. Sessions can be booked directly on the website and there are also packages available. If someone is still unsure about how Lesley's service might be beneficial, there is free 15 minute discovery call offered. Sessions are offered on zoom or via telephone call.
Episodes:
Saying goodbye to a beloved pet (coming soon)
---
Marc Saltzman
Marc Saltzman is one of North America's most recognizable and trusted tech experts, specializing in consumer electronics, Internet trends and interactive entertainment. Marc has authored 15 books since 1996 and currently contributes to nearly 50 high-profile publications in North America, including Toronto Star, USA Today, AARP, MSN, Yahoo!, Costco Connection, Postmedia, Media Planet, Movie Entertainment and Rogers Connected. Marc hosts various video segments, including "Gear Guide" (seen at Cineplex movie theatres and sister chains across Canada) and is a regular guest on CNN, CNN International and CTV's Canada AM. Marc also hosts "Tech Talk," a syndicated radio spot across Canada.
Episodes:
---
Dr. Paul Saunders
Dr. Paul Saunders is a Naturopathic Doctor with a private practice in Dundas, Ontario. He earned his title at the Canadian College of Naturopathic Medicine, and did additional training and residency at the National College of Naturopathic Medicine in Portland, Oregon where he earned a second degree as a Naturopathic Doctor and served as their interim Research Director. Paul earned a Diplomate from the Homeopathic Academy of Naturopathic Physicians (DHANP) and was Certified as a Classical Homeopath (CCH) from the American Council on Homeopathic Certification in 1993. Amongst many other achievements, he was honoured as the Ontario Naturopathic Doctor of the Year in 1994 and 2002, has co-authored three books, conducted research, published numerous papers, and lectured frequently on naturopathic medicine.
Episodes:
---
Robert J. Sawyer
Robert J. Sawyer is one of only eight writers ever to win all three of the world's top awards for best science-fiction novel of the year: the Hugo, the Nebula, and the John W. Campbell Memorial Award. He has also won the Robert A. Heinlein Award, the Edward E. Smith Memorial Award, and the Hal Clement Memorial Award; the top SF awards in China, Japan, France, and Spain; and a record-setting sixteen Canadian Science Fiction and Fantasy Awards ("Auroras"). His latest novel — his 24th — is The Oppenheimer Alternative.
Rob's novel FlashForward was the basis for the ABC TV series of the same name, and he was a scriptwriter for that program. He also scripted the two-part finale for the popular web series Star Trek Continues.
He is a Member of the Order of Canada, the highest honor bestowed by the Canadian government, as well as the Order of Ontario, the highest honor given by his home province; he was also one of the initial inductees into the Canadian Science Fiction and Fantasy Hall of Fame. Rob lives just outside Toronto. His website and blog are at sfwriter.com, and on Facebook, Twitter, and Patreon he's RobertJSawyer.
Episodes:
---
Lynda Faye Schmidt
Lynda Faye Schmidt, former teacher and now author, believes that creating is her life purpose. Whether that manifests in building meaningful relationships, writing poems, blogs, or stories, or simply preparing gorgeous food, she loves to be fully engaged in the process.
Lynda earned a Bachelor of Education, majoring in reading and language, at the University of Calgary. As a teacher, she held positions from kindergarten to grade nine. She developed an interest in special needs education early in her career and enrolled in numerous workshops to develop her skills, alongside gaining valuable experience in the field.
In September 2017, Lynda started her blog, Musings of an Emotional Creature, where she writes about topics that inspire, impassion, and ignite her. She writes about everything from travel to life as an expat, relationships, and current events.
Based on true events, her book, The Healing, is a work of Women's Fiction / Family Drama that follows Cate Henderson, who, after twenty-six years in an abusive relationship, sets out on a quest to find healing and create a new life. Her days are filled with time spent on her mat, practicing yoga and meditation, reading, writing, taking care of business, and connecting with the people she loves.
Lynda is a Canadian expat. She currently lives in Riyadh, Saudi Arabia, with her husband, David.
Episodes:
---
Tara Sermer
Tara Sermer, BSc., DVM, is a graduate of Concordia University and The Ontario Veterinary College, University of Guelph. Tara is a member of the College of Veterinarians of Ontario and the Ontario Veterinary Medical Association. She has been a licensed and practicing veterinarian since 1994 and has worked primarily in the field of small animal medicine (mainly dogs and cats). She has a special interest in small animal dentistry and canine behaviour. She is currently interested in equine reproduction. She currently owns two Dobermans, two Boston terriers, a black and white kitty cat, pet birds, chickens and three horses. Tara currently owns and operates Green Lane Animal Hospital in Thornhill. Visit Tara's website at www.greenlanevet.com.
Episodes:
---
Sandee Sharpe
Sandee Sharpe is a recently retired, certified educator with the Ontario College of Teachers; teaching both students and adults for over 30 years. As a passionate advocate for experiential education, Sandee was the Site Supervisor for Forest Valley Outdoor Education Centre for the Toronto District School Board for most of her career, connecting students of all ages with the natural world. In the classroom, she emphasized life skills, self-empowerment, and resiliency.
Sandee continues to engage and empower others through her courses, which include hands-on skills and strategies that can be put into use immediately. Throughout her life, Sandee has been a curious and discerning learner. It has opened many doors and led to her becoming a Reiki Master in 2004, a Certified Soul Coaching® Practitioner in 2017 and a Ho'oponopono Practitioner in 2020.
She is passionate about uncovering and teaching techniques that allow us to become our authentic, best version of ourselves. She wholeheartedly believes in setting people up for success and when presented with a challenge… there's a strategy for that!
To learn more about Sandee and upcoming courses, please go to www.sandeesharpe.com.
Episodes:
---
Brittany Shields
Brittany is a Career Counsellor and Registered Psychotherapist (Qualifying) who has a M.A. in Clinical and Counselling Psychology from the University of Toronto.
Brittany is currently working at Career Counselling Canada, has extensive knowledge of Career Psychology and has presented her expertise and research findings at national and global career development conferences. Brittany has also developed workshops for high school students related to career decision making and transitioning to university, written various blogs and has provided her expert opinions to the media.
Brittany can be reached at brittany@canadacareercounselling.com or at 647-637-1579, to schedule a complimentary consultation about her services.
Episodes:
---
Eleanor Silverberg
Eleanor Silverberg, founder of Jade Self Development Coaching, is a social worker, author, speaker and grief specialist who has helped countless adults through diverse life-altering situations applying her innovative coaching methods. She specializes in assisting family caregivers of the chronically ill to cope by providing empowering tools for them to self monitor with self awareness. Her mode of practice stands out as she combines existing grief strategies with conventional therapeutic models. The combined methods are incorporated within the 3-A Coping Framework Eleanor developed and featured in her books "Caregiving with Strength" and "Keeping It Together". She has also created a modified mindfulness program in her book "Mindfulness Exercises for Dementia". Eleanor holds a BA in Psychology, Master of Social Work, Certification in Bereavement Education, extensive training and practice in Mindfulness and over 20 years of Independent Grief Studies.
To assist in dealing with the challenges that families face, Eleanor offers an introductory complimentary half hour coaching session.
You can contact Eleanor through her website eleanorsilverberg.com or email at hello@eleanorsilverberg.com.
Episodes:
---
Heather Skoll
Heather Skoll is the Founder of the Reset Zone App, bringing quick and accessible video tools to help reduce the impact of stressful emotions. Heather's background as a Certified Kripalu Yoga Teacher, and a Certified Rubenfeld Synergist, has given her an insight to the holistic world of healing that combined with modern technology can help support people with daily stressors. Heather says "When we calm the body, then we can also assist the mind".
Contact Heather at 905-770-5611 or heather@resetzone.ca.
Episodes:
---
Julie Starr
Julie Starr is the founder of Possibility Life Coaching for Women. Her visionary work is in the field of supporting women in challenge. As a trained Life Coach, Julie provides solutions and empowerment for better lives lived. Her warm, straight shooter approach has helped many women get their feet back on the ground and make creative choices. She is the author of Your Husband Left, Now What?! and specializes in working with women who have experienced this.
Julie Starr has a BFA with honours in Dance Therapy from York University and is a graduate of Coach U. You can contact her at juliestarr@possibilitycoaching.net or through possibilitycoaching.net.
Episodes:
---
Dr. Jonathan Stea
Dr. Jonathan N. Stea, Ph.D., R. Psych, is a registered and practicing clinical psychologist in Calgary, Alberta, Canada, with research and clinical expertise in addiction. He has published many peer-reviewed scientific research papers on topics related to cannabis, addiction, and mental health. He provides assessment, treatment, and consultation services in a specialty outpatient program for concurrent addictive and psychiatric disorders.
Episodes:
---
Lisa Tabachnick
Lisa is an artist, writer, and blog founder living in Markham, Ontario. Her articles, interviews & posts appear in publications and websites across North America, including: Hope to Cope, ParentsCanada, KIWI and TVOntario. In 2011, she founded the blog KidsAndMentalHealth.com which helps Highly Sensitive Parents make sense of parenting & children's mental, emotional and social health. She holds a B.A. in sociology from Dalhousie University and a B.A.A. in media arts from Ryerson University. Lisa is a parent to two teenagers and previously sat on two committees for Kinark Child & Family Services.
To contact Lisa, visit KidsAndMentalHealth.com or email lisa.tabachnick@gmail.com.
Episodes:
---
Laura Tarcea
Laura Tarcea is a certified and accredited specialist in family mediation in Ontario.
With a background in psychology, law and mental health, Laura brings valuable insight and critical knowledge to parents. She specializes in helping couples create equitable agreements as the groundwork for new family systems and positive post-separation lives, thus helping to ensure that children are protected from the stressors of divorce.
In addition to being a part of the Family Mediation Group, Laura founded the Family Mediation and Resources non profit organization, in Ontario. The organization offers low and middle-income families with affordable and equal access to family dispute resolution alternatives.
For more information, or to contact Laura Tarcea: 647-284-9148 or via familymediationgroup.ca.
Episodes:
---
Alison Tedder
Alison Tedder was born and grew up in South Africa. Following completion of a medical degree, with a specialization in anaesthesiology, she worked in many different hospitals. In 2010, she moved with her partner of seventeen years, and their two children, to Toronto, Canada. While waiting to write an exam which would qualify her to work in her field in Canada, Alison keeps busy by renovating their house and remaining an active mom in their children's lives.
Episodes:
---
Dr. Joan Tucker
Dr. Tucker completed her medical school training at McGill University, and her residency in Psychiatry, with a Fellowship in Child Psychiatry at the University of Toronto. She has a strong interest in holistic psychiatry, has written about her personal healing experiences in Spirituality and Health Magazine and is the author of two illustrated workbooks designed to assist employees and students in returning to their daily lives after treatment for mental health challenges.
Dr. Tucker is a regular Independent Medical Examiner for multiple assessment companies, a medical consultant at RBC Insurance in the Disability and Claims Division and a consultant at Canada Life Insurance.
She is also a staff psychiatrist at North York General Hospital in Toronto, Canada, where she is involved in outpatient psychiatric treatment with a focus on Occupational Psychiatry, and assisting individuals returning to work after mental health disability.
Episodes:
---
Elaine Uskoski
Elaine is a video gaming addiction speaker, author and coach. After discovering that her son, who was attending university at the time, was addicted to video game playing, she threw herself into learning everything she could about video gaming addiction. . Elaine relied on her vast experience in social service work and 20 years' experience in wellness to create a holistic plan to help her son recover both his physical and emotional well-being.
In the several years it took for her son to learn how to manage his disorder and reclaim his life, Elaine learned much about how to parent him through his addiction. She channeled this growth into her book, "Seeing Through the Cracks" which details her experience and she has recently released her second book, "Cyber Sober".
Elaine is a public speaker, sharing her story and educating parents on the risk factors associated with video gaming addiction and digital screens. She is also a Canada Clinical Partnership Specialist for Intenta Clinical Training for Gaming Disorder.
She has been featured on numerous media outlets including CBC's The National, CBC Radio, The Wall Street Journal, CHCH Television and Rogers TV. Elaine is also a coach for parents, offering information, strategies and support in managing technology. Elaine is candid, honest and compassionate in the hope that she can inform people about the very real dangers of this 21st century problem.
For more information check out elaineuskoski.com or contact Elaine at elaineuskoski@gmail.com or 226-337-2070.
Episodes:
---
Sheri Van Dijk
Sheri is a registered Social Worker who has been working in the mental health field since 2000, most of which she has spent both in private practice and at Southlake Regional Health Centre in Newmarket, Ontario, working with clients with severe mental health problems. Sheri has had extensive training in mindfulness and dialectical behavioural therapy (DBT) and has been running DBT-informed groups since 2004.
Sheri is the author of seven DBT books for both adults and teens, the focus of which is to teach clients how to use mindfulness practice and DBT skills to help them live emotionally healthier lives. She has also written DBT Made Simple, the aim of which was to make DBT more accessible to therapists working with diagnoses other than borderline personality disorder; and she has been presenting extensively in Canada and abroad with this goal as well.
Sheri is the winner of the R.O. Jones award for her research on using DBT skills with bipolar disorder, presented at the Canadian Psychiatric Association Conference in September, 2010.
When Sheri isn't working, she loves to travel, spend time with her family and her dogs, scuba dive, play squash, and read.
Contact Sheri via her website, www.sherivandijk.com.
Episodes:
---
Nia Vardalos
Nia is the academy award and Golden Globe nominated actress and writer of My Big Fat Greek Wedding and the author of Instant Mom. Nia was born and raised in Winnipeg, Canada, but now resides in Los Angeles with her actor husband Ian Gomez, their daughter Ilaria and several pets. She is currently working on balancing her acting and writing career with motherhood and adoption advocacy.
Episodes:
---
Dr. Thomas Verny
Dr. Thomas Verny received his MD degree from the University of Toronto in 1961. He then continued with an additional three years of study in Psychiatry at the University of Toronto and one year at Harvard University, Boston.
Since that time, his career has included work within the field of Psychiatry, both in hospital and academic settings, as well as private practice. He has also written seven books, contributed to anthologies and publications, and lectured at conferences locally and internationally. His book of poetry, Cordless, was published in 2014.
Dr. Verny's internationally acclaimed book, The Secret Life of the Unborn Child, has been published in 27 countries. He organized the First International Congress on Pre and Perinatal Psychology in 1983 in Toronto, founded the Pre and Perinatal Psychology Association of North America (PPPANA) and served as its President from 1983 to 1991.
Although Dr. Verny is semi retired, he continues to remain involved in the field of psychiatry. He and his wife live in Stratford, Ontario, where he is a consultant to the Stratford Festival. He also has a part time position with the Ontario Review Board. Presently, he is in the midst of writing a book on cellular intelligence. And in his "spare" time, he is Associate Editor of the Association of Pre and Perinatal Psychology and Health Journal, lectures and enjoys playing chess.
Dr. Verny can be reached at thomasrvernymd@sympatico.ca.
Episodes:
---
Samuel Waldner
For more than 20 years, Samuel Waldner has helped generations of individuals and families struggling with the difficulties of living with alcohol, drug, nicotine, compulsive eating and other dependencies. Now in private practice, he has also worked in out patient and residential settings.
He has his Master of Education in Counselling Psychology from OISE (Ontario Institute for Studies in Education) and was trained as an addiction counsellor in Minnesota, USA.
For more information, click on www.samuelwaldner.com or call 416-630-0818.
Episodes:
---
Meagan Wachtel
Meagan Wachtel is a graduate of McGill University and OISE at the University of Toronto. Having earned her Master's degree in Counselling Psychology, she is currently working as a psychotherapist in private practice. Her work focuses on families, children and teens who are struggling with anxiety, depression, substance use and significant life changes. Meagan has spent many years working with youth in the addictions field and providing education and resources to parents and teens throughout the GTA. For more information visit www.meaganwachtel.com.
Episodes:
---
Brenda Whiteside
After over 18 years of service as University of Guelph's Associate Vice-President (Student Affairs), Brenda Whiteside retired in 2018.
As AVPSA, Brenda was responsible for the non-academic programs and services for students on campus. This includes: Athletics, Student Wellness Services (Counselling., Student Support Network, Health Clinic, Accessibility Services, Health & Performance Centre), Student Housing, Child Care, Student Life (New Students, Leadership, Intercultural Affairs, Off-Campus, and Community Engagement) and Co-op and Career Services. She was also the contact with student leaders, providing oversight of student organizations and clubs and providing support and advice. Brenda is a graduate of the University of Guelph, receiving a BA in Management Economics in 1982 and an MA in Economics in 1983.
Episodes:
---
Una Wright
Una Wright is the Founder/Executive Director for YouthSpeak Performance Charity. The organization was inspired by her own family's experience with many challenges. She has been training at-risk/resilient youth in leadership and public speaking skills for over 20 years and she believes that giving a voice to the challenges we face in life gives meaning to these experiences, as well provides hope and inspires change. For more information, visit youthspeak.ca or email una@youthspeak.ca.
Episodes:
---
Dr. Helena Zajdeman
Dr. Helena Zajdeman is a clinical psychologist who has worked for the Toronto District School Board for over 25 years. She has worked extensively with children with learning, developmental and behavioural challenges. Dr. Zajdeman has provided consultation to parents and teachers through her work with children from senior kindergarten through secondary school. Dr. Zajdeman also has a private practice. Contact Dr. Zajdeman at zajdeman@sympatico.ca.
Episodes:
---
Simon Zelcovitch
Simon Zelcovitch moved to Toronto, from Winnipeg, in 1967 to join an advertising agency as a copy writer and creative group head. A year later he spotted an ad about a class on graphology (handwriting analysis) and this was where his love and interest in learning more about this field began.
Simon left the ad agency in 1990, after being President for the previous fourteen years, and began focusing full time on graphology. He has continued learning and helping others understand themselves better by analyzing their handwriting for over forty years. To reach Simon visit his website at www.torontohandwritinganalyst.com or contact him via email at zelco@rogers.com.
Episodes:
---
Dr. Debby Zweig
Debby Zweig is a clinical psychologist registered with the College of Psychologists of Ontario since 1985. Dr. Zweig was granted her Ph.D. from the University of Minnesota in 1984. She is also a member of the Canadian Psychological Association, the Ontario Psychological Association, the Association for Behavioural and Cognitive Therapies, the Anxiety and Depression Association of America and is listed on the Canadian Register of Health Service Providers in Psychology.
Dr. Zweig, until 2017, was a staff psychologist at Mackenzie Health Hospital's Shaw Clinic, Child and Family Services which she headed for 20 years until 2012. In that role, she also was a clinical supervisor of doctoral students in clinical psychology programs. Currently, Dr. Zweig works at OISE/University of Toronto where she is a faculty member of the Applied Psychology and Human Development Department and Director of a doctoral psychology internship training program.
In addition to her university position, Dr. Zweig maintains a part-time private practice providing general psychological services for children, adolescents and adults, with a specialization in the treatment of Anxiety Disorders (including OCD).
She can be reached at (647) 873-5579.
Episodes: